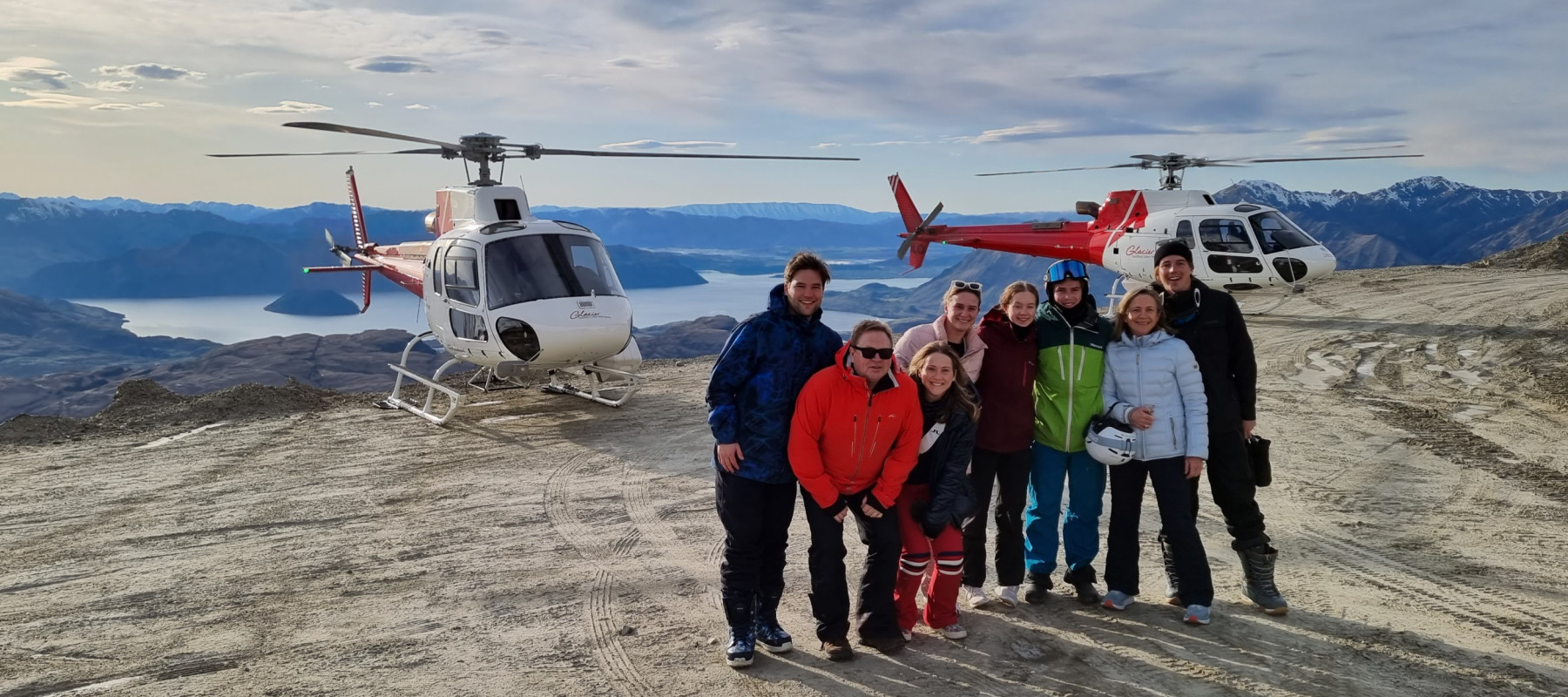 Ski Field Transfers
Avoid the roads and access the slopes in style
Forget the queues and snow chains this winter and get straight to the un-tracked powder on one of our ski field transfers.
Offering either one way or return transfers, we can get you straight to the slopes of Coronet Peak, The Remarkables, Cardrona or Treble Cone.
Please contact our team to arrange your ski field transfer.
Please note: we require advance notice for a transfer to Treble Cone, as we have to secure landing permission, which can take up to five days.
Season 2023
| | One Way | Return |
| --- | --- | --- |
| The Remarkables | $1,170 | $2,240 |
| Coronet Peak | $1,170 | $2,240 |
| Cardrona | $2,135 | $4,070 |
| Treble Cone | $3,230 | $6,360 |
Arrive like a rock star
Avoid the roads and access the slopes in style.
Bookings
We strongly recommend that you make your flight bookings in advance and at the start of your Queenstown itinerary to ensure you are not disappointed. If we cannot fly due to adverse weather, we can transfer your booking to another day. Alternatively, if you would prefer, we will refund you in full.
To make a booking please use our secure booking form by clicking the book now button placed throughout the site. Please note that your credit card details are required to make a booking however no charges will be processed until the day your flight departs. Please note that this is not a live inventory booking system. Upon submitting your booking enquiry you will receive an email from us, confirming availability and departure time.
Reconfirmations
Please call us at least 24 hours prior to departure for a weather check, to reconfirm booking details and to receive confirmation of departure time. This will allow alternative flight arrangements to be made if weather conditions are unfavourable.
Our toll-free contact number is 0800 801 616.
Cancellation Policy
For scenic flights: if you cancel your reservation more than 24 hours from the departure time, a full refund will be made. Cancellations within 24 hours of the departure time will incur a 100% cancellation fee.
For group bookings (3+ Helicopters): if you cancel your reservation more than 7 days from the departure date, a full refund will be made. Cancellations or significant changes between 7 days and 3 days of the departure date will incur a 50% cancellation fee. Cancellations or significant changes within 3 days of the departure date will incur a 100% cancellation fee.
Prices and Payments
All prices are quoted in New Zealand Dollars and include 15% Goods and Service Tax. Rates are valid from March 2022 until 30 September 2022 unless otherwise stated.
All prices are subject to change without notice. Some public holidays are subject to a surcharge.
We welcome New Zealand currency, agent vouchers, Visa & Mastercard. Please note credit cards will incur a surcharge. Fuel surcharges may also apply.
Children's Prices
For scenic flights, children aged 0 – 11 years are eligible for child rates. Child rates are calculated at 70% of the adult fare unless otherwise stated. 12 years and over are considered adults.
For Queenstown Snowmobiles children are considered to be ages 6 - 14 years and they must travel with a responsible adult and ride as a pillion on the snowmobiles.
Flight Durations
The away times (flight durations) specified in the flight tour itineraries are approximate and can be subject to weather conditions. On occasion, flight paths and landing locations may change at the pilot's discretion. We will always keep you informed of any changes to the published information.
Minimum Numbers
On all scenic flights, minimum numbers apply unless otherwise stated. Individual bookings may be combined if necessary to achieve minimum numbers. We carry a maximum of 6 passengers per aircraft within Civil Aviation Authority restrictions. For aircraft weight and balance purposes, please advise at the time of booking your individual weight (in KG's) This is a CAA requirement.
What to bring
Because you'll be outdoors in an alpine environment you will need:
comfortable walking shoes/boots
windproof jacket
warm clothing
camera, sunglasses, hat, sunblock and any personal items