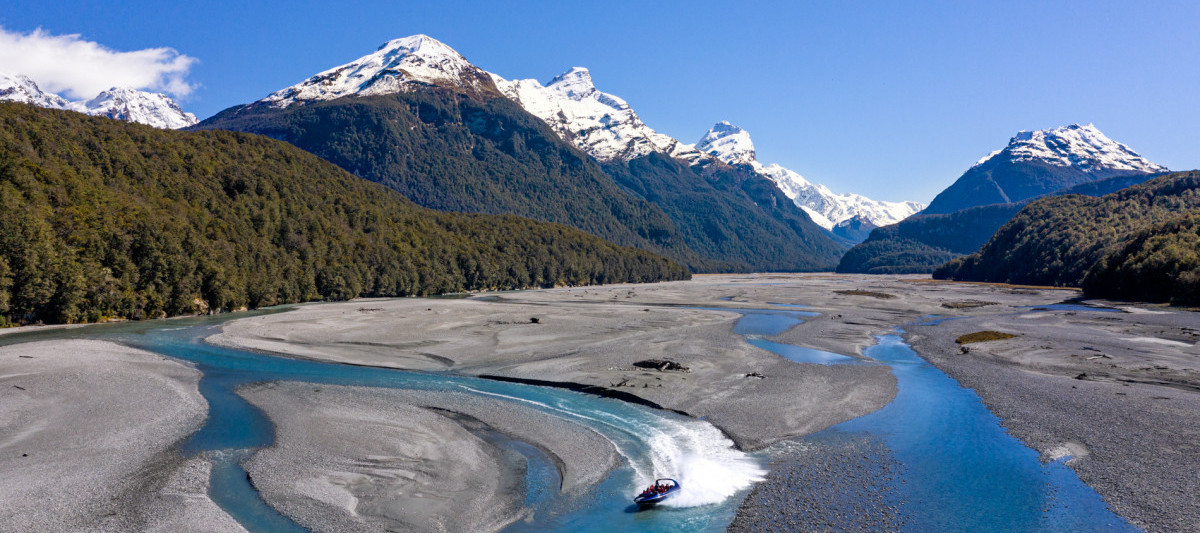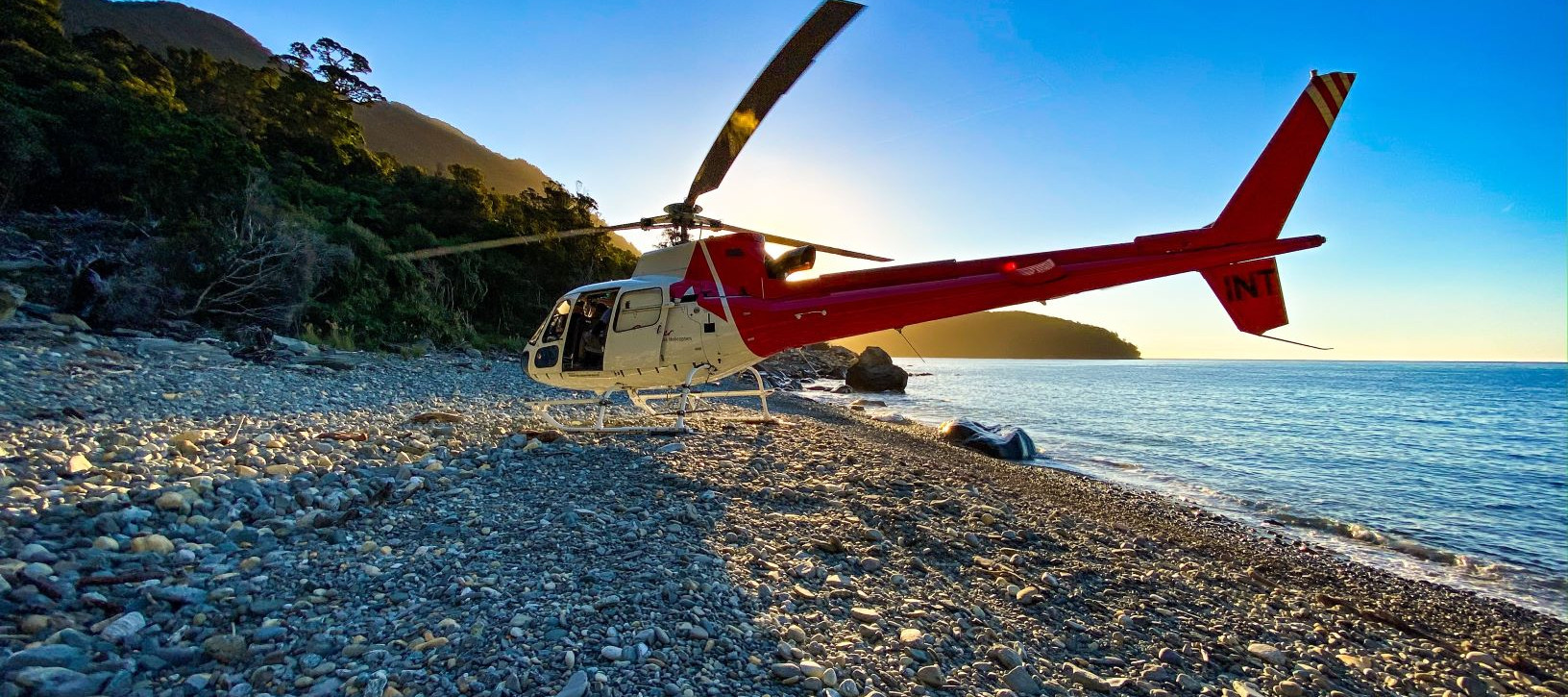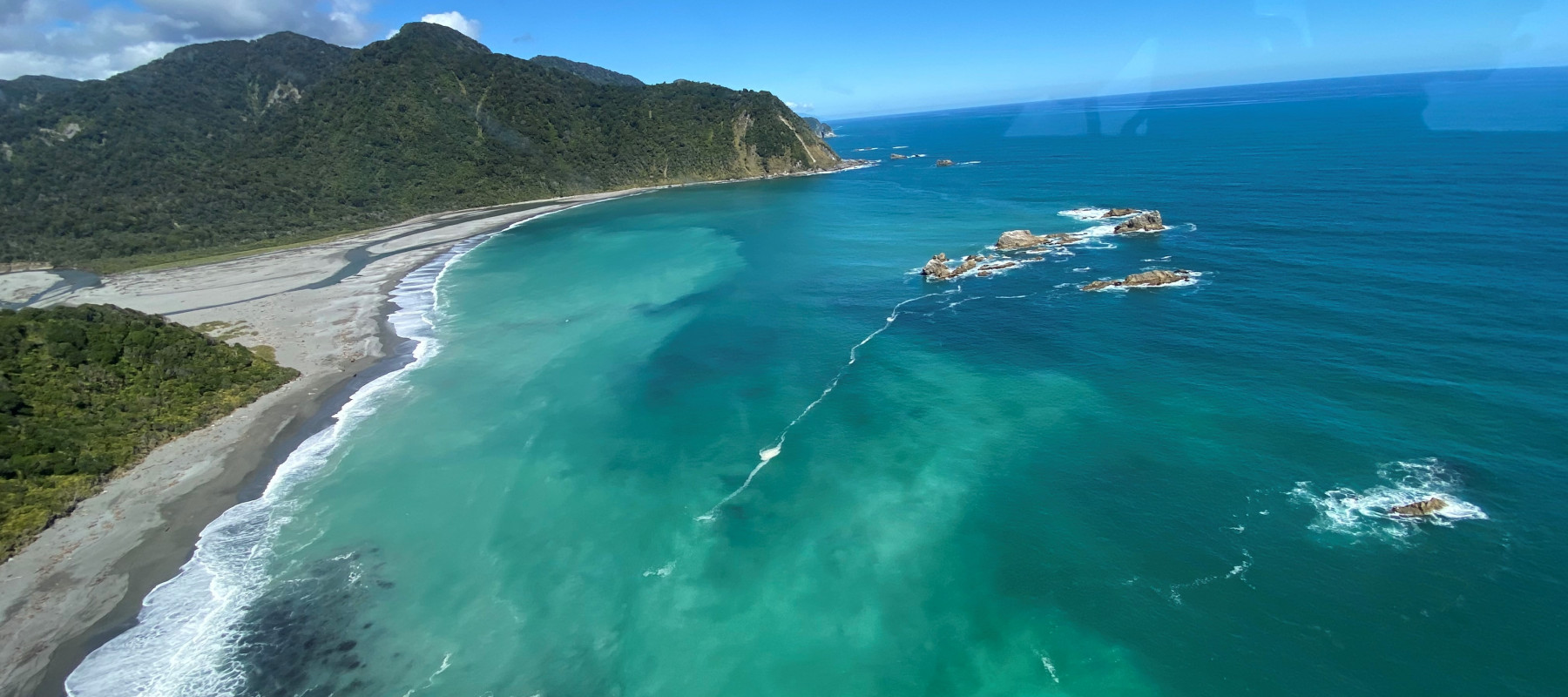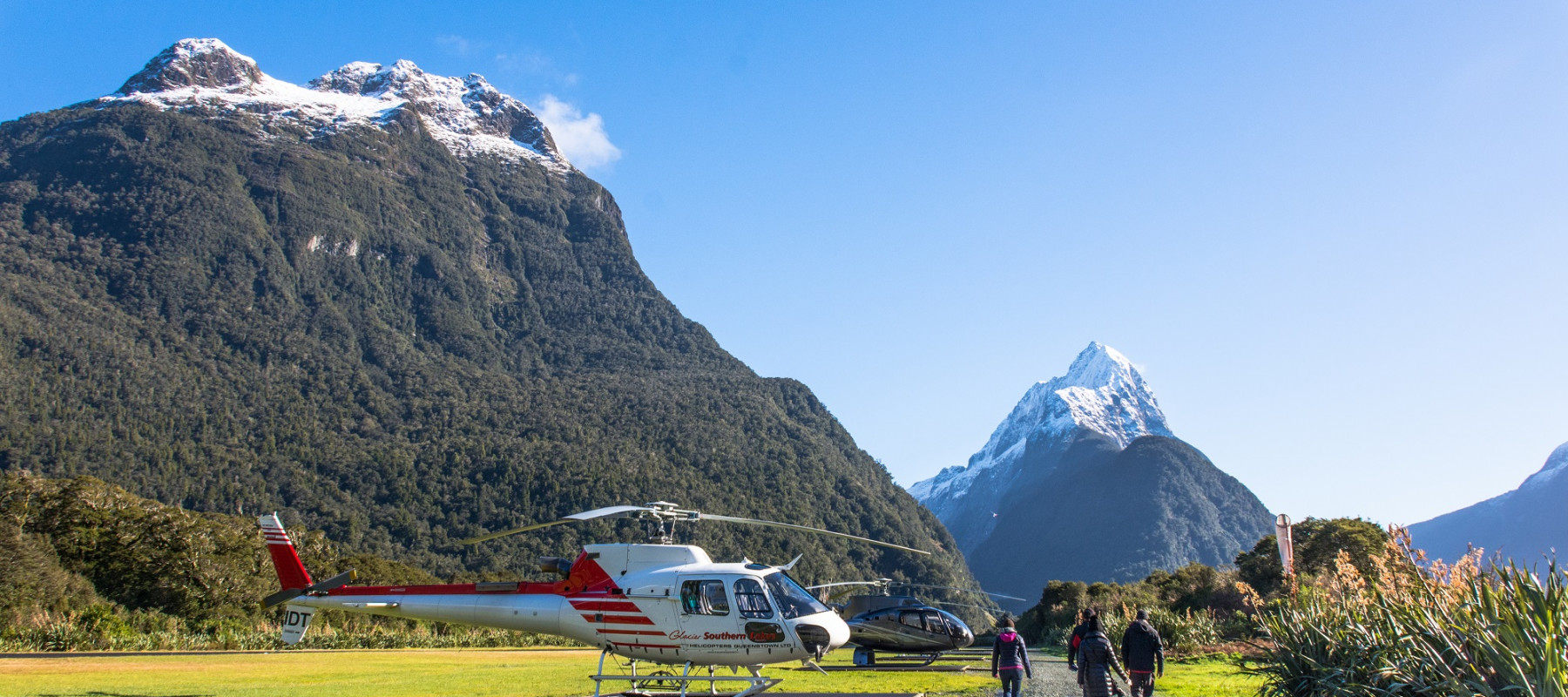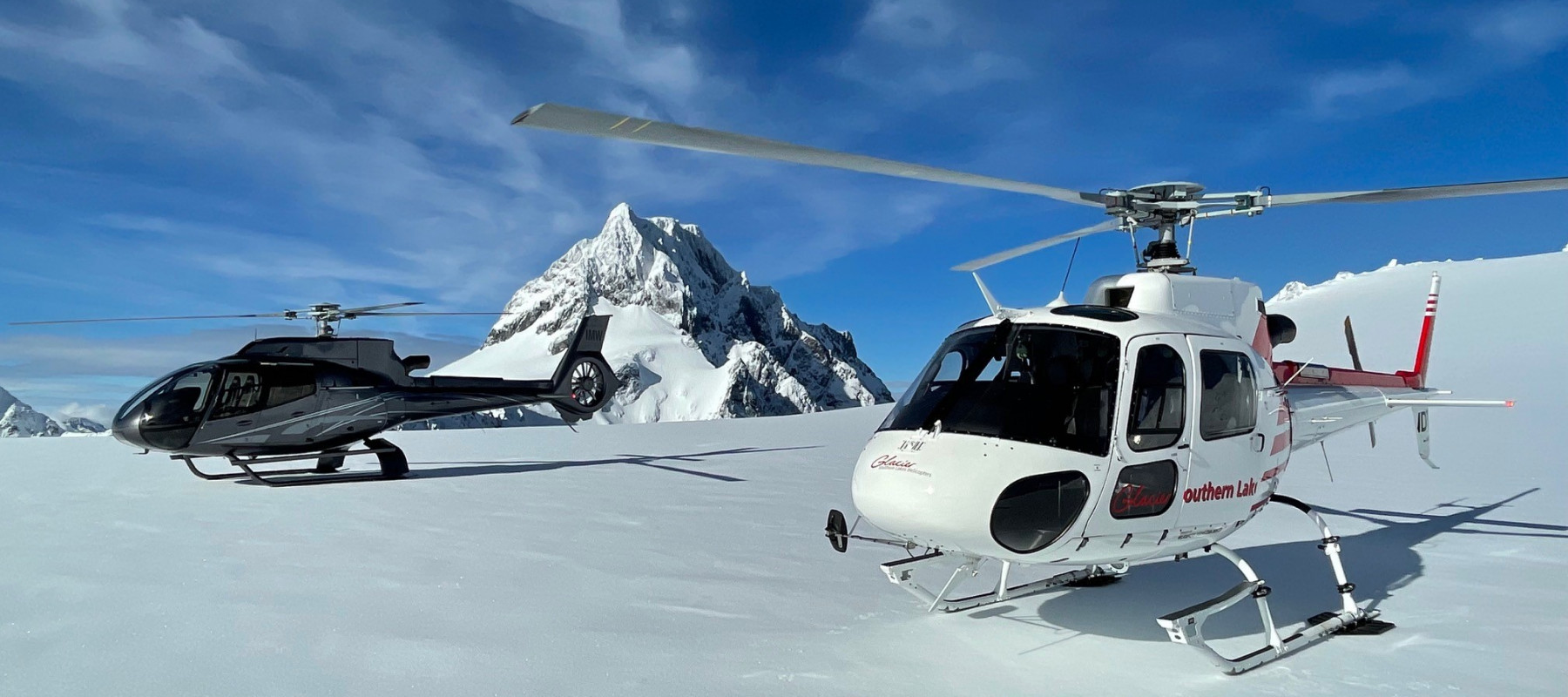 Path of Pounamu
Flight 409
Explore two of New Zealand's most iconic wilderness areas.
Landings

Milford, Beach & Glacier/Alpine
The ultimate wilderness Jet boat adventure takes you on an unforgettable journey along the braided, glacier-fed Dart River. Experience the unique combination of breath-taking scenery and an exhilarating ride as we take you deep into Mount Aspiring National Park. The ever-changing environment makes every trip unique. With daily and seasonal changes to the flora and fauna, colour of the bush, river structure & colour, water clarity, birds, wildlife and snow level, returning for a second adventure can mean you explore a whole new world.
Combined with our most popular Milford Extended, showcasing a variety of the most impressive scenery between Queenstown and the West Coast.
Enjoy a scenic showcase, flying from Glenorchy over the Southern Alps to your first landing in Milford for a scenic walk and photo opportunity. Then fly the full 16km length of New Zealand's most famous fiord taking in the sheer cliffs, gushing waterfalls and imposing mountains of Milford Sound all the way to the coastline. Land on an isolated West Coast beach to experience the truly rugged nature of this untamed region before heading back across the mountains for one last alpine landing on the way home to Queenstown.
Please note: This product is unavailable on Tuesdays and Wednesdays.
Restrictions:
Minimum Heights - 100cm, but may be increased to 120cm in some river conditions.
Child age is 5 - 15 years.
Trip Pricing
Dates: March 1 2022 – September 30 2022
Child - Ages 5 - 15 years
$803
Path of Pounamu Flight Path
Note: Flight path is indicative only.
Please note:
Please note, glacier and snow landings are subject to weather and availability.

We strongly recommend you make your flight bookings in advance and at the start of your Queenstown itinerary. If we cannot fly due to adverse weather, we can transfer your booking to another day.

This product is unavailable on Tuesdays and Wednesdays
Booking Information
Bookings
We strongly recommend that you make your flight bookings in advance and at the start of your Queenstown itinerary to ensure you are not disappointed. If we cannot fly due to adverse weather, we can transfer your booking to another day. Alternatively, if you would prefer, we will refund you in full.
To make a booking please use our secure booking form by clicking the book now button placed throughout the site. Please note that your credit card details are required to make a booking however no charges will be processed until the day your flight departs. Please note that this is not a live inventory booking system. Upon submitting your booking enquiry you will receive an email from us, confirming availability and departure time.
Reconfirmations
Please call us at least 24 hours prior to departure for a weather check, to reconfirm booking details and to receive confirmation of departure time. This will allow alternative flight arrangements to be made if weather conditions are unfavourable.
Our toll-free contact number is 0800 801 616.
Cancellation Policy
If you cancel your reservation more than 24 hours from the departure time, a full refund will be made. Cancellations within 24 hours of the departure time will incur a 100% cancellation fee.
COVID-19 Cancellation Policy
Safety is our priority. In the instance of New Zealand Government mandated changes to Alert levels or border restrictions, and we cannot operate, we will refund your booking, even if it is within the 24 hours from departure period.
Prices and Payments
All prices are quoted in New Zealand Dollars and include 15% Goods and Service Tax. Rates are valid from March 2022 until 30 September 2022 unless otherwise stated.
All prices are subject to change without notice. Some public holidays are subject to a surcharge.
We welcome New Zealand currency, agent vouchers, Visa & Mastercard. Please note credit cards will incur a surcharge. Fuel surcharges may also apply.
Children's Prices
For scenic flights, children aged 0 – 11 years are eligible for child rates. Child rates are calculated at 70% of the adult fare unless otherwise stated. 12 years and over are considered adults.
For Queenstown Snowmobiles children are considered to be ages 6 - 14 years and they must travel with a responsible adult and ride as a pillion on the snowmobiles.
Flight Durations
The away times (flight durations) specified in the flight tour itineraries are approximate and can be subject to weather conditions. On occasion, flight paths and landing locations may change at the pilot's discretion. We will always keep you informed of any changes to the published information.
Minimum Numbers
On all scenic flights, minimum numbers apply unless otherwise stated. Individual bookings may be combined if necessary to achieve minimum numbers. We carry a maximum of 6 passengers per aircraft within Civil Aviation Authority restrictions. For aircraft weight and balance purposes, please advise at the time of booking if any passenger exceeds 83kg (CAA standard weight).
Courtesy Coach
A courtesy coach is available to pick up and drop off passengers from their accommodation in the Queenstown area.
What to bring
Because you'll be outdoors in an alpine environment you will need:
comfortable walking shoes/boots
windproof jacket
warm clothing
camera, sunglasses, hat, sunblock and any personal items