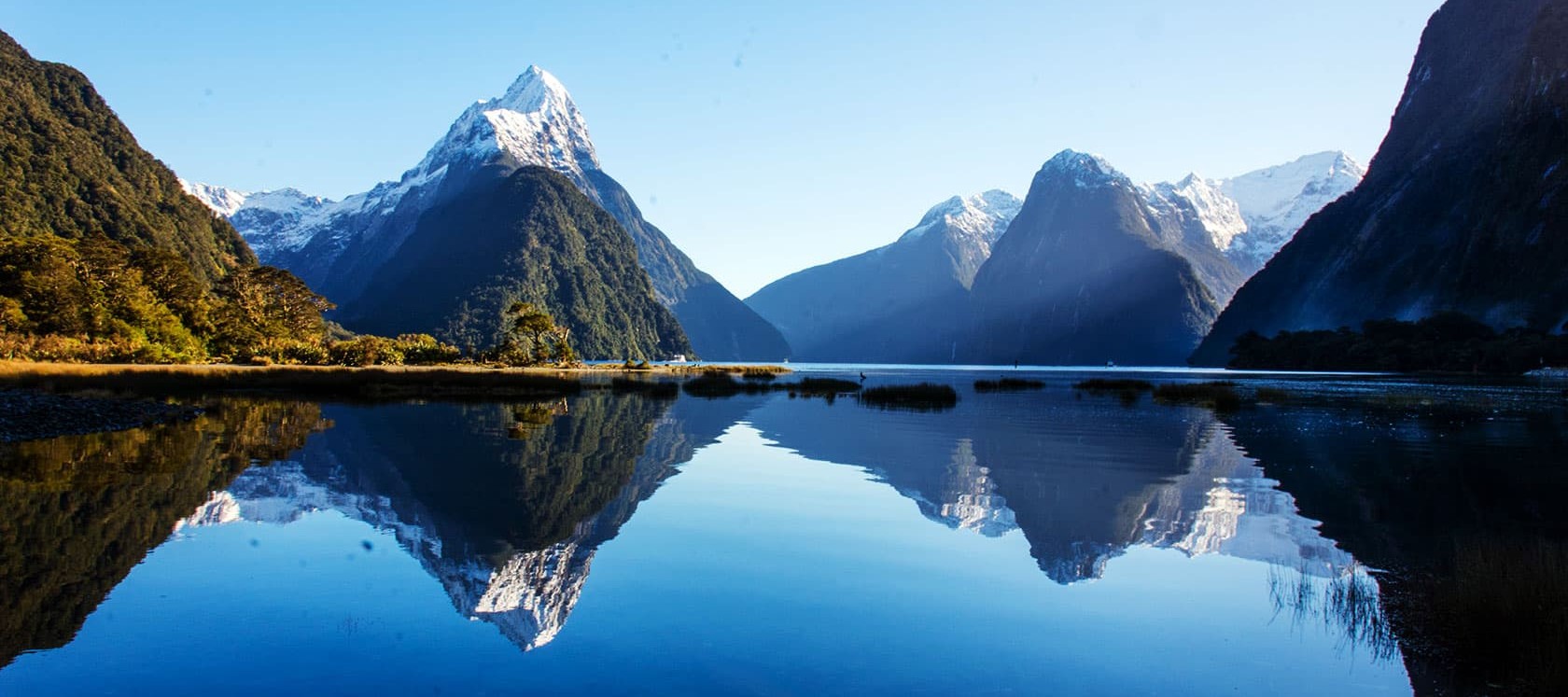 Frequently Asked Questions
Do you operate on Christmas Day?
Yes, we do operate on Christmas Day - 25th December! However, we only offer our Milford Sound Private Charter flights (excluding the #202 Milford Sound + Cruise flight). Please note there is limited availability on Christmas Day, so book early to avoid disappointment. In addition, a public holiday surcharge applies.
I completed your online booking form a few days ago but I haven't heard back from you yet? Is my booking confirmed?
We endeavour to reply to all bookings within 24 hours of receiving them, but sometimes mysterious things have been known to occur so if you haven't heard from us – LET US KNOW! Either give us a call on +64 3 442 3016 or 0800 801 616 (within NZ) or email us directly at [email protected]
I can't get your booking form to work – is it broken?
Hopefully not, but sometimes things occur and change with various web browsers (such as Internet Explorer, Firefox, Safaris & Google Chrome) which we can't always control. Our advice is to ensure you are using the most up-to-date version of your preferred web browser or try a different web browser. If you continue to experience problems please do let us know by emailing us.
What is the best time of day to schedule our flight?
That all depends on the weather on the day. When booking you can select your preferred departure time and we will do our best to cater to that. However please be aware that the exact departure time may not get confirmed until the day of departure, once we've had a chance to assess the weather conditions. We will then schedule your flight in order to give you the best possible flying conditions.
Why do I need to reconfirm my flight details with you when I arrive in Queenstown?
Again, this is for a weather check so we can give you an update on what you can expect and to confirm your departure time. Please be aware that the Southern Lakes area can experience rapidly changing weather conditions, which can sometimes make scheduling your flight a challenge so we may ask you to call us for a weather check more than once. If you are travelling with an international roaming mobile phone, please be sure to include it on the booking form and let us know where you are staying so that we can get hold of you if we need to change things.
What happens if our flight is cancelled or postponed due to weather?
If your flight is cancelled due to weather and you are not able to reschedule we offer a full refund. Weather plays a big part in what we do and unfortunately none of us have figured out how to control it yet! Poor weather prevents us from flying to Milford Sound more than 100 days a year however safety is our number one priority. Obviously for guests this can be frustrating but the other thing to remember is that if the weather is bad or even marginal it's not going to be a very pleasant experience for you in a helicopter. We don't fly if we know that the turbulence will be bad or if we know there's too much cloud around to actually see anything during your 'scenic' flight. To combat all this we always recommend that you book your flight at the start of your stay in Queenstown, so if weather is unfavourable the first day we can reschedule you to the next day. Most of the time this strategy is very successful and we are able to give guests an amazing experience.When you enter your credit card details on our booking form to confirm your booking this information is securely stored however we will not take actual payment until you arrive at our hanger on the day of your flight.
I would like to purchase a flight as a gift – do you provide gift vouchers?
Sure. If you know the date you wish to fly, you can book the flight as normal using our online booking form and add a note in the comments field – we might also need to know the recipients contact details. If you would like the date to be open just contact us by email and we can prepare a voucher for you to give to the recipient. Click here for more info.
Where does an infant sit and why do I need to pay for them?
For infants we provide extra lap belts so that they are restrained as well as child sized headphones which aren't connected to the internal PA system. There is no minimum age to fly and we find that toddlers and babies are very comfortable flying – very often they just fall asleep! Even though an infant will sit on your lap, our aircraft manufacturer (Airbus) stipulate there are no more than six passengers on any flight, irrespective of the age of the passenger or whether or not they take up a seat.
I am travelling on my own, but see that you have a minimum number policy, can I still make a booking?
Of course, we can add single travelers to a wait list for their preferred flight until minimum numbers have been confirmed or we may combine flights in order to reach minimum numbers, offering one booking an upgrade. It is usually no problem for us confirming flights.
Can you help me propose to my partner?
Congratulations! Whether you want to pop the question during a private charter, alpine picnic or shared scenic flight we know that this can be a nerve-racking time and we're here to help things go as smoothly as possible for you. Let us know your plans in advance so we can help you pull off the ultimate romantic gesture and we can even provide you with the celebratory bubbly! Did you know you can return to Queenstown for a heli-wedding as well?
The Helicopter Experience
What type of helicopters do you fly and how many passengers can they carry?
We own a fleet of Airbus AS350 Squirrels. These carry a total of 6 passengers plus the pilot, 2 seats are located in the front and 4 along the back. The Squirrels are a great machine due to their versatility and are great for scenic flights because they are like sitting in a goldfish bowl so you can see everything around you (even in the back seat!). We also operate the most luxurious helicopter available in Queenstown – the Airbus H130 which can be specifically requested for private charters, please contact our reservations team for pricing & availability.
Can we fly just one-way to Milford Sound, i.e. be picked up from there after arriving by coach, is there a discount for this?
We do cater to requests like this, however because we need to leave a seat free for you in the helicopter on the way into Milford, it's not any cheaper than flying both ways.
Do all your flights depart from Queenstown Airport or are we able to get picked up by helicopter from an alternate location?
There are a number of consented helipads which we can do heli pick-ups and drop-offs to such as Millbrook Resort, Blanket Bay and all the local ski fields. We can also land on private land with the permission of the landowner. Please contact us to discuss as there may be additional charges.
How long do you land for during your alpine/snow/glacier landings?
All our standard scenic flights include at least one landing. Each landing usually lasts for about 10 minutes which is plenty of time to snap a few photos, play in the snow and get really cold (especially in the winter). The helicopter will not be shut off during the landing, except when landing at the Milford Sound airstrip where we land for about 30 minutes or up to 2 hours if passengers are also doing a cruise.
Can you still do snow and glacier landings in the summer?
Sure can! For snow landings we know a few secret spots around Queenstown which generally maintain snow all year round. Just keep in mind that in the summer months the quality of the snow will be quite different to what you might experience during our winter months. However, if you've never seen snow before it's still a pretty exciting experience. Glacier landings are similar, during the winter months they are covered in snow but over the summer the snow base reduces, leaving a harder, icier surface with perhaps just a thin layer of fresh snow on top.
Why should I choose to fly to Milford Sound by helicopter, rather than fixed-wing aeroplane?
We realise that heli-flights are a bit more expensive than fixed-wing flights (it simply costs more to run a helicopter than a small plane) but we firmly believe that the benefits of flying by helicopter make it worthwhile. We offer multiple landings including glacier landings as we are not restricted just to airstrips. We also believe that the viewing from a helicopter is better than from a plane as our windows are much larger and less restrictive. Heli-flights to Milford Sound are less weather affected than fixed-wing flights and helicopters are more stable in the air, so if conditions become windy they suffer from less turbulence than small planes. For these reasons we often find that nervous flyers are more comfortable in helicopters than fixed-wing aircraft. If you are a nervous flyer please let our pilots know as they are highly experienced in ensuring that your experience is as comfortable and as smooth as possible.
Do you fly to Fox and Franz Josef glaciers on the West Coast?
We can, however because of the distance to do so, it becomes quite an expensive private charter, which is out of range for most budgets.
I have a keen interest in photography, can I reserve a front seat so that I can get good shots from the helicopter? Is it possible to open the doors?
We never like to guarantee the front seat because seating allocation is at the discretion of the pilot who has to consider weight and balance for helicopter safety. Because every scenic flight has a landing, there is the opportunity to change the seating arrangements part way through the flight. This makes it fairer for all passengers, giving everyone an opportunity of a front seat or window seat.
If you are a professional photographer or film-maker with specific requirements you will need to book a charter fight if you want to fly with the door open.
Do you have a maximum passenger weight?
No, however for the purpose of aircraft weight and balance and in accordance with Civil Aviation Authority standard weights we require all individual passenger weights at the time of booking. Passengers will be weighed again upon check-in to ensure we have accurate weights of all passengers.
Bookings
We strongly recommend that you make your flight bookings in advance and at the start of your Queenstown itinerary to ensure you are not disappointed. If we cannot fly due to adverse weather, we can transfer your booking to another day. Alternatively, if you would prefer, we will refund you in full.
To make a booking please use our secure booking form by clicking the book now button placed throughout the site. Please note that your credit card details are required to make a booking however no charges will be processed until the day your flight departs. Please note that this is not a live inventory booking system. Upon submitting your booking enquiry you will receive an email from us, confirming availability and departure time.
Reconfirmations
Please call us at least 24 hours prior to departure for a weather check, to reconfirm booking details and to receive confirmation of departure time. This will allow alternative flight arrangements to be made if weather conditions are unfavourable.
Our toll-free contact number is 0800 801 616.
Cancellation Policy
For scenic flights: if you cancel your reservation more than 24 hours from the departure time, a full refund will be made. Cancellations within 24 hours of the departure time will incur a 100% cancellation fee.
For group bookings (3+ Helicopters): if you cancel your reservation more than 7 days from the departure date, a full refund will be made. Cancellations or significant changes between 7 days and 3 days of the departure date will incur a 50% cancellation fee. Cancellations or significant changes within 3 days of the departure date will incur a 100% cancellation fee.
Prices and Payments
All prices are quoted in New Zealand Dollars and include 15% Goods and Service Tax. Rates are valid from March 2022 until 30 September 2022 unless otherwise stated.
All prices are subject to change without notice. Some public holidays are subject to a surcharge.
We welcome New Zealand currency, agent vouchers, Visa & Mastercard. Please note credit cards will incur a surcharge. Fuel surcharges may also apply.
Children's Prices
For scenic flights, children aged 0 – 11 years are eligible for child rates. Child rates are calculated at 70% of the adult fare unless otherwise stated. 12 years and over are considered adults.
For Queenstown Snowmobiles children are considered to be ages 6 - 14 years and they must travel with a responsible adult and ride as a pillion on the snowmobiles.
Flight Durations
The away times (flight durations) specified in the flight tour itineraries are approximate and can be subject to weather conditions. On occasion, flight paths and landing locations may change at the pilot's discretion. We will always keep you informed of any changes to the published information.
Minimum Numbers
On all scenic flights, minimum numbers apply unless otherwise stated. Individual bookings may be combined if necessary to achieve minimum numbers. We carry a maximum of 6 passengers per aircraft within Civil Aviation Authority restrictions. For aircraft weight and balance purposes, please advise at the time of booking your individual weight (in KG's) This is a CAA requirement.
What to bring
Because you'll be outdoors in an alpine environment you will need:
comfortable walking shoes/boots
windproof jacket
warm clothing
camera, sunglasses, hat, sunblock and any personal items